2020 Fundraiser
Our big fundraiser in April was cancelled. We adapted and still held a fundraiser but it looked a little different this year.
We had a 50/50 raffle and a basket raffle. Winners were selected by random draw live on Facebook on Saturday, September 12th. Thanks to our donors, our volunteers, and to all our ticket buyers! Congratulations to our winners!
Included in the day was a special concert event! OPUS 216 Front Yard Concert classical music in the Garden! Download the flyer for complete info.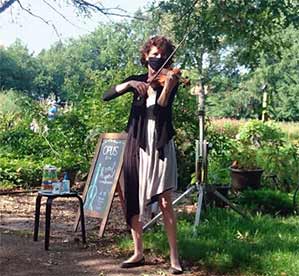 BASKET LINE-UP
(download printable pdf)
A special thank you to all who donated!
Lisa Young, John and Rosemarie Jenkins, Rakauskas Architecture, Kim Hageman, Kathryn Rieter, Kathy Keogh, Kimberly Repinski, Renee Kolecki, Tracy Gardener, Roberta Orsini, Angelo's Pizza of Lakewood, Nothing Bundt Cake, Nancy Kreigh, June Miller, Get Air Trampoline Park, AMF Brookgate Lanes, Giant Eagle-Brooklyn, Petitti's Garden Center, Gentile's, Hooley House, Spin's Bowling, Gabe's Family Restaurant, Melt, Harry's Steak House, Casamel's Pizza, Five Guys, Colozza's Bakery, Snow Trails, Jennifer Terry, Joe Jerdonek, Elicia Polacek, Amanda Porcelli, Citizen Pie, Cozumel Mexican Restaurant, B.A. Sweetie Candy Company, Mike Gutierrez-2020 Schaaf Gallery, Metropolitan Coffee.

| | |
| --- | --- |
| 1. Italian Pasta Basket. (Valued $80) -view- | • Chocolate Biscotti • Pasta • Pasta Sauce • Parmesan Cheese • Bread Sticks • Glazed Puff Pastry • Il Bastardo Red Wine • Kitchen Towel |
| 2. Red, White, And Brew – Red wine, white wine, beer, sweet and savory snacks. (Valued $72) -view- | • Bergevin Lane 2014 Moonspell Cabernet Sauvignon • Smith Story Wine Cellars 2017 "Lord Sandwich" Blanc • 2 Royal Docks, 1 Sierra Nevada brews • Salty bar snacks • Maple mustard & pretzels • Salted caramel biscotti • Dark chocolate bar |
| 3. Men's Mary Kay. (Value $65) -view- | • True Original Cologne • MKmen Shave Cream • Gardening Towels |
| 4. "Knowledge" by Pamela Dodds. (Value $300) -view- | • Hand-Carved and Hand-Printed Linocut Print 19" x 13" |
| 5. "Tether" by Pamela Dodds. (Value $200) -view- | • Hand-Carved and Hand-Printed Linocut Print 12"x 9" |
| 6. Christmas Lights with Bow Stained Glass. (Valued $100) -view- | • Christmas Stained Glass Decor |
| 7. Everything But The Kitchen Sink. (Valued $125.00) -view- | • Dish rack w/drain tray • Cloth dish mat • 2 micro tops • 2 pot holders • 2 veggie/fruit savers • Slice right • Stove top sandwich maker • Perfect chopper • Paring knife • Apple corer • Oven pull • Corn butterer • Steamer basket • Bar cloths • 2 ice cube trays • Reusable ice cubes • Tin for seed saving • Debbie Meyer Green Bags • Weekly planner/calendar |
| 8. Bloom 4 Tier Greenhouse. (Valued $35.00) -view- | • 49" height, 27" width, 12" depth • Heavy duty transparent reinforced polyethylene roof • Powder-coated frame |
| 9. Homegrown Bucket: Kick your feet up after harvest! Enjoy this basket of homegrown treats! (Value $135.00) -view- | • Lavender Candle (Stem Handmade Soap) • Gardeners Revenge Body Butter (Stem Handmade Soap) • Sun-Kissed Soap (Stem Handmade Soap) • $20 Gift Card for Sweet Designs of Lakewood • Firelands Wine-Pinot Grigio • Rising Star Coffee • Campbell's Carmel Corn • "Second Nature- A Gardener's Education." By Michael Pollan • CTW Home-Homegrown Bucket |
| 10. Light Up The Night. (Valued $100) -view- | • 4 hand crafted industrial candle sticks (2) 9" and (2)16"- metal, rebar and beads-Unique Art by Treska • Includes 6 taper candles |
| 11. Local Ohio Gift Basket. (Valued 65+) -view- | • Hand crafted Red Oak Cheese Board • 2 Cleveland Skyline Etched Beverage Glasses • Italian Taralli Crackers • Pepped Up Mustard • Lavender Gift Tote |
| 12. Angelo's Pizza – Lakewood. (Valued $100) -view- | • T-shirt • Sweatshirt • Baseball Cap • Bottle Opener • Key Chain • Mug • (2) $25 Gift cards |
| 13. Nothing Bundt Cakes. (Valued $75.00) -view- | • Insulated Coffee Mug • Insulated Bag • Ornament • Voucher for 10" Decorated Cake • Forks, Napkins and Plates |
| 14. Girls Delight. (Valued $225.00) -view- | • Oliver Thomas Tote Bag • Rabbit Freezable Cocktail Maker • Nectar of the Vine-Watermelon Frappe beverage mix • Cat Ornament |
| 15. Visa | • $50 Visa Gift Card |
| 16. Get Air. (Valued $67) -view- | • (2) 2 hour Passes For Get Air Trampoline Park • (2) pair socks • T-Shirt • Mug |
| 17. AMF Brookgate Lanes | • 20 Free Games Of Bowling |
| 18. Giant Eagle | • $25 Gift card for Giant Eagle |
| 19. Petitti's | • $25 Gift card for Petitti's Garden Center |
| 20. Gentile's/Hooley House | • $20 Gift card Gentile's Bakery - Catering & Deli • $5 Gift card Hooley House |
| 21. Spins Bowling/Gabe's | • $20 Gift card Verso's/Spins Bowl Independence • $5 Gift card Gabe's Family Restaurant |
| 22. Melt/Hooley House | • $20 Gift card Melt Bar and Grilled • $5 Gift card Hooley House |
| 23. Harry's/Casamel's | • $15 Gift certificate Harry's Steak House • $10 Gift certificate Casamel's Pizza |
| 24. Grow and Sow -view- | • Bonsai Tree Starter Kit • Nic & Syd Earrings with Swarowski Crystal • $10 Gift certificate Casamel's Pizza • $5 Gift card Gabe's Family Restaurant, Gabe's T-Shirt • $5 Gift card Hooley House |
| 25. Gabe's/Hooley House/Five Guys | • $5 Gift card Gabe's Family Restaurant • $5 Gift card Hooley House • $15 Gift card Five Guys |
| 26. Colozza's/Gabe's/ Hooley House | • $5 Gift card Gabe's Family Restaurant • $5 Gift card Hooley House • Colozza's Bakery - Free 9" Cassata Cake • Colozza's Bakery - Free Dozen Cannoli |
| 27. Snow Trails Experience (Valued $198.00) | • (2) all day lift tickets • (2) Ski/Snowboard Equipment Rentals • Two Group Lessons |
| 28. Stay Calm and Drink Tea (Valued $50) -view- | • Local Honey-Olde Time Honey • Mug • Assorted Tea • Glass canister • Tea Pot • (2) Donut Cookies • Biscotti |
| 29. Busy Bee Breakfast Essentials (Valued $50) | • Metal fruit bowl • Olde Time Honey-Local Honey • (2) Mugs • Biscuit Mix • Brazilian Coffee • Granola • Hot Cereal • Pancake Mix • Maple Syrup |
| 30. Citizen Pie | • $50 Gift Card for Citizen Pie (pizza) |
| 31. Cozumel | • $25 Gift Card For Cozumel Mexican Restaurant |
| 32. B.A. Sweetie Candy Company | • $25 Gift Card For B.A. Sweetie Candy Company |
| 33. Original Acrylic Painting by Mike Gutierrez (Valued $300) -view- | • 24" x 36" Bright, colorful, urban inspired abstract flower piece from 2020 W. Schaaf Gallery owner, local artist and fellow gardener Mike Gutierrez |
| 34. Akron Fossils And Science Center | • 4 Passes to Akron Fossils And Science Center |
| 35. Metropolitan Coffee -view- | • $25 Gift Card for Metropolitan Coffee • Insulated Metropolitan Coffee Mug-includes discounted refills |