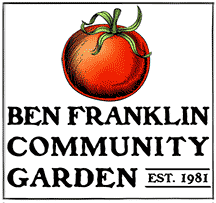 Garden News
See also – listings in Calendar/Events and Committee News
We are a 2017 Cuyahoga County Fair Red Ribbon Winner!
Bees and Pollinator Garden
In 2016 we became beekeepers with the acquisition of two hives. They have been placed in an enclosure at the end of the asphalt path. Nearby is a new pollinator garden plot of flowers – all perennial, native plants. The Garden Coordinator and other members of the Operating Committee took beginning beekeeping classes from the Greater Cleveland Beekeepers Association, where the Garden is now a member. The initial bee and garden installations were funded by a grant to the Old Brooklyn Community Development Corporation. See more about the Old Brooklyn Pollinator & Habitat Project here.
Garden Tractor
For the 2016 season the Garden purchased a tractor with a reverse turn tiller, front loader and mower attachment. This will allow the Garden Coordinator and volunteers to prepare for the spring tilling and focus on amending the soil for higher yields. A new compost bin is also being planned because a large garden needs a large compost pile. The tractor will be the most efficient way to 'turn' the pile. The tractor will allow for better use of resources. Much of the labor at the Garden has been done manually - The wood chips, for instance, have been carted by wheel barrel from one end of the Garden to the other to form paths. The front end loader will be able to distribute wood chips and soil amendments throughout the Garden, saving time and volunteers' sneakers.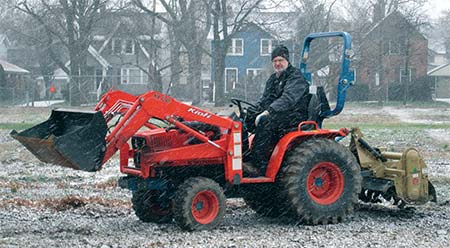 Ben Franklin Community Garden T-shirts
In 2013 the Ben Franklin Garden introduced a new t-shirt design, the work of gardener Carol Schiro. T-shirts are sold at garden events – Kickoff Meeting, Ice Cream Social, etc. A limited number of t-shirts is still available. Proceeds from the sales benefit the Garden operating fund.
T-shirts are $14.00 each.
T-shirts feature a small graphic on the front and large graphic on the back. Women's style shirts are dark green on straw yellow; men's shirts are dark green on white.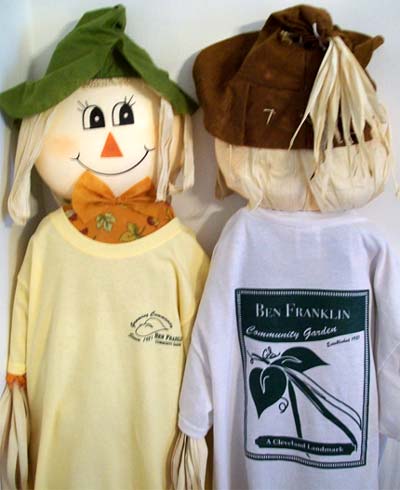 Wear your heart on your sleeve and your garden over your heart…
Colors – Straw yellow in women's and white in men's
Please Note – scarecrow not included!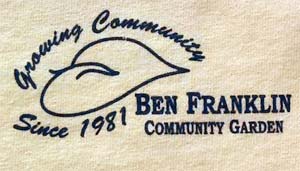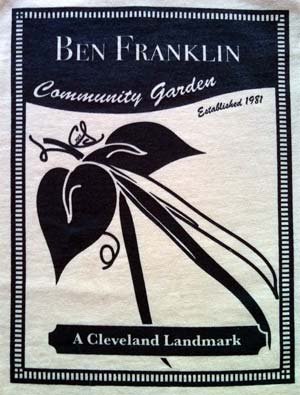 "Recipes from the Garden" cookbook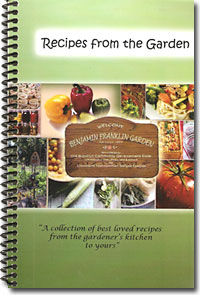 Copies are still available of "Recipes from the Garden" for just $10. The cookbook is sold at garden events throughout the year. It may also be purchased at the Old Brooklyn Community Development Corporation office (2339 Broadview Road).
The garden would like to thank the following businesses for providing monetary support to offset the price of printing: Honey Hut Ice Cream, M&W Meats and the Old Brooklyn Community Development Corporation.