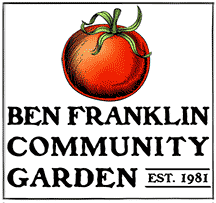 Garden News
See also- listings in Calendar/Events and Committee News
2017 Spring Fling Fundraiser
Thanks to everyone who attended the fundraiser at the historic Sachsenheim Hall and to all our contributors. We appreciate the generosity and encourage you to patronize our donor businesses.
African Safari Wildlife Park
Agape Style Studio
Akron RubberDucks
AMC Theatres
Applebee's Neighborhood Grill and Bar
b.a. Sweetie Candy Company
Jody Basich (Tastefully Simple)
Broadview & Schaaf Marathon
Carmino's Pizza
Gary Chapman
Cincinnati Reds Baseball
CLE Urban Winery
Cleveland Botanical Garden
Cleveland Browns
Cleveland Cavaliers
Cleveland Gladiators
Cleveland Metroparks Golf
Cleveland Metroparks Zoo
Cleveland Monsters
Cleveland Orchestra Blossom Music Festival
Costco
Cutting Line Family Hair Salon
Dina's Pizza & Pub
Discount Drug Mart
Dollar Bank
Famous Dave's
Gabe's Family Restaurant
Gale's Garden Center
Giant Eagle
Great Lakes Brewing Company
Great Lakes Science Center
Guthrie's Chicken Fingers
Kim Hageman (Mary Kay)
Heart to Heart Grooming
Holden Arboretum
Honey Baked Ham
Honey Hut Ice Cream
Dianna Hosta-Stickney
Jackson & Perkins
Jenkins family
John Jenkins
John & Cheryl Kachmarik
Ken Keckler
Dave Kuebler
Lake County Captains
Mahoning Valley Scrappers
Maureen McCormick
Memphis Kiddie Park
Midas – Memphis Avenue
Miller Ferry
Mitchell's Ice Cream
Music Box Supper Club
Old Brooklyn Greenhouse
Panera Bread
Petitti Garden Center
Pickwick & Frolic Restaurant & Club
Pizza Joe's & Deli
Profile Creative Hair
Rakauskas Architecture
Kim Repinski
Sam's Club
Sausage Shoppe
Sky Zone Trampoline Park
Speed Exterminating
Laura Stahl
Stan Hywet Hall & Garden
Mary Ellen Stasek
Sunshine Flowers
Sweet Greens
Jennifer Terry
Toast Wine Bar and Restaurant
Toledo Mud Hens
Toledo Walleye Hockey
University of Toledo – Toledo Rockets
Vincenza's Pizza & Pasta
Chris Walsh
Walt Disney World
Western Reserve Historical Society / Hale Farm & Village
Lisa Young
Plus, thanks to these individuals for the desserts: Ann Marie Hanna, Kim Hageman, Rosemarie Jenkins, Vivian Keckler, Debbie Occhetti, Kim Repinski, Kathy Rieter, Mary Ellen Stasek, Jennifer Terry, Lisa Young
Bees and Pollinator Garden
In 2016 we became beekeepers with the acquisition of two hives. They have been placed in an enclosure at the end of the asphalt path. Nearby is a new pollinator garden plot of flowers – all perennial, native plants. The Garden Coordinator and other members of the Operating Committee took beginning beekeeping classes from the Greater Cleveland Beekeepers Association, where the Garden is now a member. The initial bee and garden installations were funded by a grant to the Old Brooklyn Community Development Corporation. See more about the Old Brooklyn Pollinator & Habitat Project here.
Garden Tractor
For the 2016 season the Garden purchased a tractor with a reverse turn tiller, front loader and mower attachment. This will allow the Garden Coordinator and volunteers to prepare for the spring tilling and focus on amending the soil for higher yields. A new compost bin is also being planned because a large garden needs a large compost pile. The tractor will be the most efficient way to 'turn' the pile. The tractor will allow for better use of resources. Much of the labor at the Garden has been done manually - The wood chips, for instance, have been carted by wheel barrel from one end of the Garden to the other to form paths. The front end loader will be able to distribute wood chips and soil amendments throughout the Garden, saving time and volunteers' sneakers.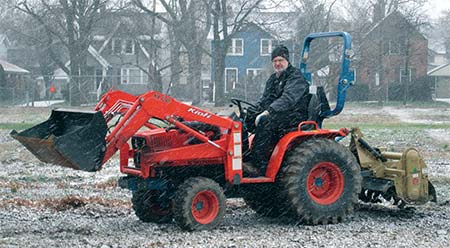 Ben Franklin Community Garden T-shirts
In 2013 the Ben Franklin Garden introduced a new t-shirt design, the work of gardener Carol Schiro. T-shirts are sold at garden events – Kickoff Meeting, Ice Cream Social, etc. T-shirts can also be purchased by contacting members of the operating committee. Proceeds from the sales benefit the garden operating fund.
T-shirts are $14.00 each.
T-shirts feature a small graphic on the front and large graphic on the back. Women's style shirts are dark green on straw yellow; men's shirts are dark green on white.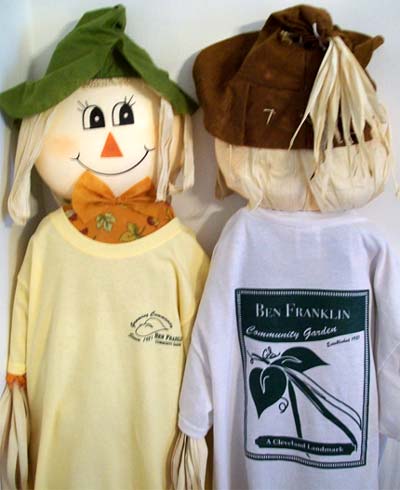 Wear your heart on your sleeve and your garden over your heart…
Colors – Straw yellow in women's and white in men's
Please Note – scarecrow not included!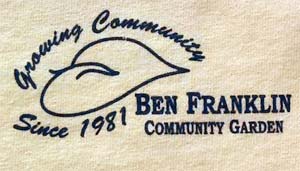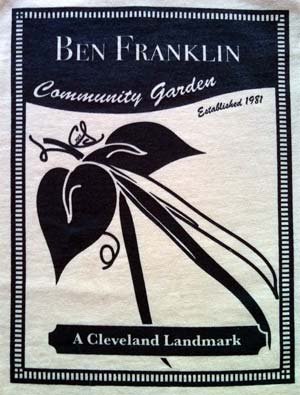 "Recipes from the Garden" cookbook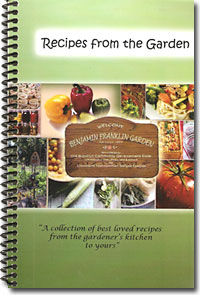 The Ben Franklin Garden is proud to announce the publication of "Recipes from the Garden". In the fall of 2012 the garden operating committee was approached by a gardener who wanted to produce a cookbook. The book would feature recipes that included fruits and vegetables, many of which are produced in Ben Franklin Garden. The committee thought it was a great idea and gave permission to begin the compilation of recipes. Gardeners were encouraged to submit their recipes and responded with recipes for appetizers, soups & salads, vegetables & sides, casseroles & main dishes, desserts and canning. In the end, over 100 recipes were collected. The recipes were reproduced and presented in a very attractive, colorful, spiral bound booklet.
The cookbook is available for just $10. The cookbook will be sold at garden events throughout the year. It may also be purchased at the Old Brooklyn Community Development Corporation office (2339 Broadview Road).
The garden would like to thank the following businesses for providing monetary support to offset the price of printing: Honey Hut Ice Cream, M&W Meats and the Old Brooklyn Community Development Corporation.
Volunteer Teams
To help defray the cost of operating the garden, gardeners and co-gardeners are asked to volunteer at least five hours during the growing season. To help make it easier for gardeners to fulfill their obligation we are introducing "Work Crews". More than a dozen different crews have been identified for work from garden setup in May thru garden closing in October. The crews span a wide range of talents and abilities, hopefully something for everyone. Gardeners will be asked to identify four crews they would like to join. Gardeners will be notified of their assignment at the start of the season. The crews will be overseen by the Garden Co-ordinator. With this new plan we hope we can take advantage of the talented, enthusiastic volunteer force we have at our disposal.
Garden Set-up Crew (Involves one or two days in early May, includes staking plots, requires week-day availability)
Social/Fundraising Events Crew (Setup, cleanup, food preparation for all events, assists with Garden entry for County Fair)
Grounds Crew (Works weekly throughout the season to maintain the grounds, includes trash pickup and mowing)
Beautification Crew (Maintains fruit trees and berry patches, plants and maintains flower displays)
Hunger Center Crew (Plants and maintains any vacant plots for donation of harvest to hunger centers)
Hunger Center Delivery Crew (Weighs and delivers donated produce)
Tree & Brush Removal Crew
Weekend Opening/Closing Crew
Building Maintenance Crew (Cleans washrooms, shed and container throughout the season, plus season start-up and ending tasks)
Garden Plot Management Crew (Identifies troubled plots weekly, helps gardeners needing assistance)
Composting Crew (Maintains compost area throughout the season)
Equipment Crew (Assists Projects Sub-committee with equipment/tool repair, maintenance and inventory)
Garden Closing Crew (Involves one or two days in October to prepare Garden for plowing – requires weekday availability)