Email Newsletters
2021
April
February/March
January
2020
December
October
September
August
July
June
May

We're using Remind, a text messaging app, to communicate announcements and reminders quickly and efficiently — straight to your phone. Sign up!
Garden News
See also – listings in Calendar/Events
Garden Merch
Our new online swag store is open for business—our latest fundraiser with a variety of 40th Anniversary apparel—unisex short and long-sleeved Ts, sweatshirts, Ts and tanks for women, junior Ts— plus caps and hats and bags. All with choices of fun colors. Order by Sunday May 23rd, 2021 for delivery to the Garden. Orders will be available for pick up on Wed., June 9th and Thurs., June 10th from 5-7:30 p.m. and on Sat., June 12th and Sun., June 13th from 9-11 a.m.
Check it out!
Straw is a popular weed barrier and mulch at the Garden and we make it convenient! Order online from Elicia and your bales will be delivered right to the Garden at a date TBA. Straw is $7 a bale delivered. Our gardeners find that 3-4 bales gives good coverage for a full plot and 1.5-2 bales is enough for a half plot. Order bales HERE.
Neighbor Up COVID-19 Rapid Response Grant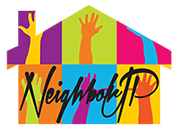 We have been approved for a $5,000 Neighbor Up COVID-19 Rapd Response Grant through Neighborhood Connections! This grant program was launched to help groups and organizations respond to emergency and basic needs requests, provide support for operations, and/or reduce social isolation. We're looking toward the benefits of getting together safely outdoors with the community. To that end, we have earmarked the funding for the building of a gazebo which will allow us to have an outdoor gathering place for diverse programming.This grant will get the project off the ground (or, really, "on the ground") and we are following up with a crowdfunding campaign at ioby.org/project/ben-franklin-community-gardens-new-pavilion for the rest of the cost.
Walmart Community Grant 2020
We are honored to to have been selected again for a Walmart Community Grant. We are receiving $500.00 from Facility # 2073, the Walmart Supercenter at 10000 Brookpark Road. The grant will be used for soil improvement. We our grateful for the continued support of our work in the community and we're pleased to recognize Walmart's commitment to giving back to the communities where they operate. Be sure to give a "thanks" if you're shopping there!

A New and Improved Tractor!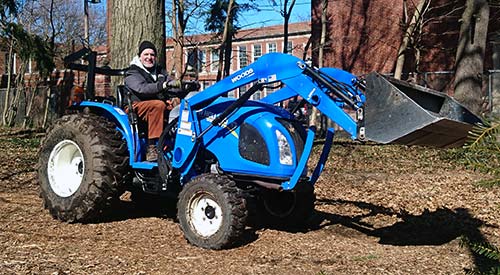 We have a new tractor! It's a 2015 New Holland Workmaster 37 with a front end loader and horsepower nearly double that of our old tractor. That may not mean a lot to most of us, but to Greg it means a bunch! He says that compared to our old Kioti, it's like driving a Lexus!. It should provide us with the means to maintain and improve the Ben Franklin Community Garden for years to come.
We were able to make the purchase with a generous grant from the Cleveland Foundation, in partnership with OBCDC, a donation from the M.A.D Club, and with funds raised and donated by our Garden Committee and our gardeners. We thank all of you who have donated your time, supported our fundraisers and made donations to the garden. Your generosity has made this purchase possible.
---
News from the 2020 season
Milk Jug Seed Starting Demo
Watch gardener (and newly elected Committee member) Jim Kasper demonstrate how to start next year's plants at home this winter. It works!
Live Music in the Garden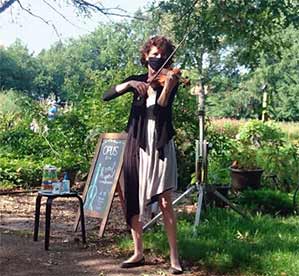 What a pleasure to have two live music concerts in the Garden this September! On two glorious late summer days! On Saturday, the 12th, violinist Ariel Clayton Karas performed a morning mix of Irish fiddle, jazz, and classical music with a "nature" lean. This was one of OPUS 216's "Front Yard" concerts and a great way to start the day..
In the evening on Saturday, the 19th we had a performance by Cellocentric, "classical meets Jazz, Folk, & World Music, featuring Guitar, Bassoon, and Cello." The trio is guitarist Doug Wood, cellist Carolina Borja, and bassoonist (and Benji gardener) Arleigh Savage.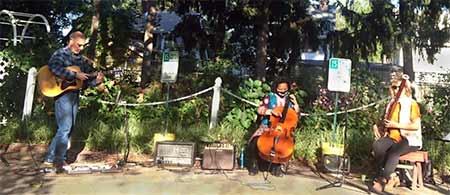 Jam and Honey Sales
Thanks to everyone who purchased our jam and honey. We hope you will enjoy it in good health! We hope to announce additional product availability soon.
Virtual Fundraiser Raffle Sept. 12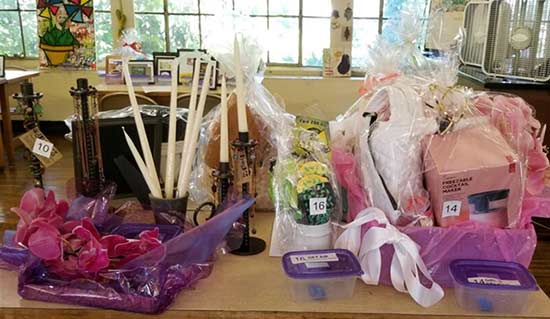 Loads of thanks to everyone who participated in our virtual fundraiser — our donors, volunteers, and ticket buyers. Congratulations to all the winners!
Ice Cream Social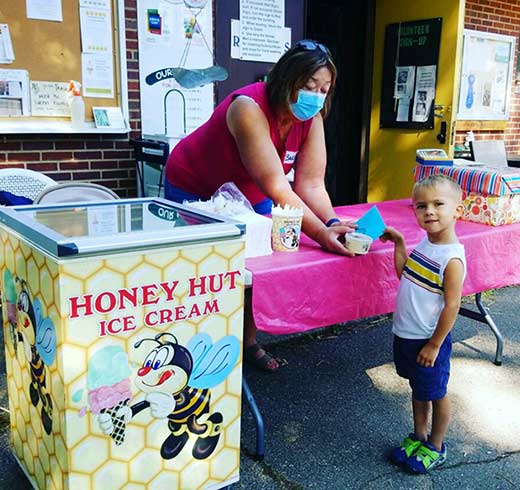 Download event flyer
Thanks to everyone who attended the Ice Cream Social To-Go. Much appreciation to Honey Hut for their contribution.
Thanks also for purchasing raffle tickets and merch at the event. Keep it going! All proceeds go to the operation of the Garden.
Thanks also to everyone who made a "Card of Cheer" or donated extra blank cards. With the help of the 2020 West Schaaf Gallery+Studio family and the Metropolitan Coffee family we were able to finish our quota of 186 cards donated.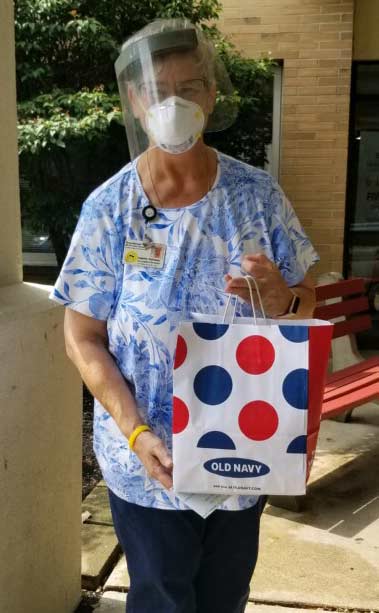 Broadview Multi Care Center was extremely appreciative and are excited to share the cards with their patients. A thank you to Debra from Broadview Multi Care who will handle delivery of the cards.
Walmart Community Grant 2019
We are honored to to have been selected for a 2019 Walmart Community Grant. We received $1000.00 from Facility # 2073, the Walmart Supercenter at 10000 Brookpark Road. This funding brought in a load of soil to help replenish our garden. We our grateful for this support of our work in the community. We're pleased to recognize Walmart's commitment to giving back to the communities where they operate. Be sure to give a "thanks" if you're shopping there!

---
Older news and notes
Garden T-shirts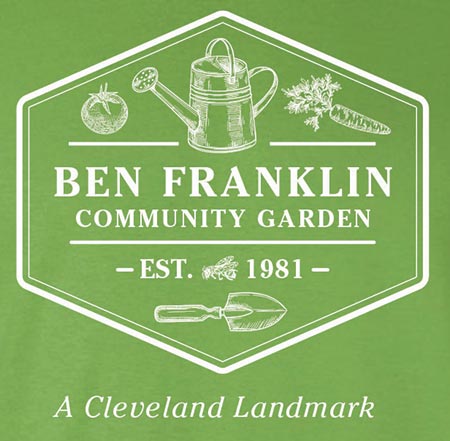 Limited sizes/numbers of our t-shirts are still available. Get 'em while they last!
Cost = $15. All proceeds benefit Garden operations.
Women's tank
2 - size L
2 - size XL

Women's v-neck
1 - size Sm.
1 - size Med.

Men's sleeveless
6 - size L
6 - size XL
3 - size 2XL

Men's crew

There are a limited number of older edition shirts.
White:
2 - size Sm
8 - size L
2 - size 3XL
Yellow:
2 - size Sm
1 - size Med

Congresswoman Kaptur visits the Garden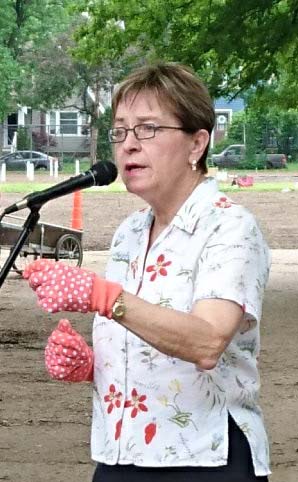 The opening of the 2018 Garden on Saturday, May 26th, was a special event—not only because it seemed the rains would never stop and the opening would never come. We were privileged to have a visit from Marcy Kaptur, U.S. Representative from Ohio's Ninth Congressional District, who toured our Garden and addressed the gardeners in attendance. Congresswoman Kaptur is a proponent of local, urban food production and advocate for affordable access to healthy food including fresh produce. Congresswoman Kaptur has a self-described passion for agriculture and has made initiatives regarding the issue of agriculture among her legislative priorities. Cleveland Council President Kevin Kelley and Ward 12 Councilman Tony Brancatelli also attended. It was an honor to host our elected officials and show off our "digs." Thank you, all! You're invited back any time to see how the Garden grows!
---
Get all the latest Garden alerts right on your phone
We're using Remind, a text messaging app, to communicate announcements and reminders quickly and efficiently — straight to your phone. It's simple! Join by texting @bfcgarden to 81010. You don't need a smartphone, just any phone that can receive text messages. (Your service's mobile messaging rates may apply.) DETAILS HERE.
---
The M.A.D. Club
M.A.D. (Make a Difference) club is "an organization of students working together to build enthusiasm within their school and outside community by joining in a movement of creative ideas and volunteer time in order to make a positive difference in the lives of others." The Club currently has chapters at Gilmour Academy, Padua Franciscan High School, and Mentor High School. The 2018 season will be our third season with student volunteers from M.A.D. who recruit sponsors and plant, tend, and harvest Hunger Center plots along with performing other volunteer tasks at the Garden.
Check out their website to learn more about M.A.D. Here's a video they made to "recap last year's season full of fun, sunshine, potatoes and service":
---
BFCG as the centerfold!
See the feature article about the Garden in the Old Brooklyn News March 2018 quarterly issue: http://bit.ly/2oY5qhl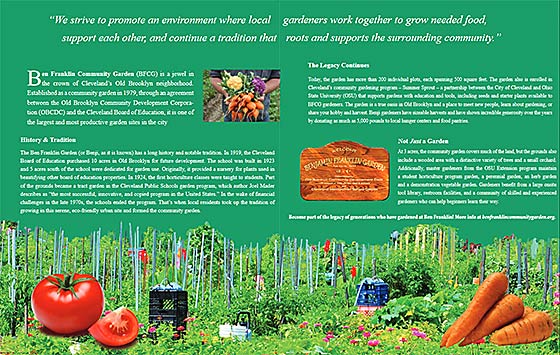 ---
"Putting Waste to Work" – KeyBank article
Featured on the KeyBank website is an article about Key employee and BFCG gardener Paul Kazmierczak and the Key-Rust Belt Riders food waste-composting initiative at the Garden. Read it at https://www.key.com/about/key2cleveland/quality-of-life/composting.jsp.
---
Bees and Pollinator Garden
In 2016 we became beekeepers with the acquisition of two hives. They have been placed in an enclosure at the end of the asphalt path. Nearby is a new pollinator garden plot of flowers – all perennial, native plants. The Garden Coordinator and other members of the Operating Committee took beginning beekeeping classes from the Greater Cleveland Beekeepers Association, where the Garden is now a member. The initial bee and garden installations were funded by a grant to the Old Brooklyn Community Development Corporation. See more about the Old Brooklyn Pollinator & Habitat Project here.
---
"Recipes from the Garden" cookbook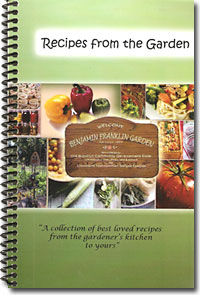 Copies are still available of "Recipes from the Garden" for just $10. The cookbook is sold at garden events throughout the year. It may also be purchased at the Old Brooklyn Community Development Corporation office (2339 Broadview Road).
The garden would like to thank the following businesses for providing monetary support to offset the price of printing: Honey Hut Ice Cream, M&W Meats and the Old Brooklyn Community Development Corporation.