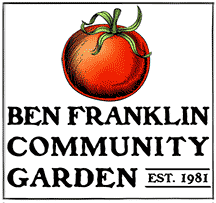 Garden News
See also – listings in Calendar/Event
Garden T-shirts – new edition!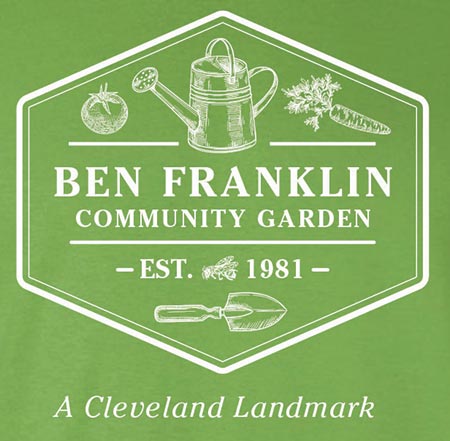 Our newest t-shirts are available in 4 styles. Cost = $15. They will be available at all Garden events. Watch for signs at the Garden for details.
Limited sizes/numbers of older Ts are still available at reduced prices! Get 'em while they last.
All proceeds benefit Garden operations.
| | |
| --- | --- |
| Women's tank | Women's v-neck |
| Men's sleeveless | Men's crew |
Blue ribbon winner at the Fair!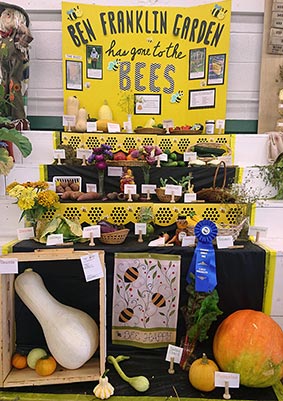 We took top honors in the Community Garden category at the 2018 Cuyahoga County Fair. Benji has gone to the BLUE with this year's theme "Ben Franklin Garden has gone to the bees." Thanks once again to gardener Kim Repinski for heading up the effort and to everyone who contributed!
Let's grow some ideas and volunteers for the 2019 Fair! It's a great way to earn your volunteer hours. Interested? Submit to grow@benfranklincommunitygarden.org.
Congresswoman Kaptur visits the Garden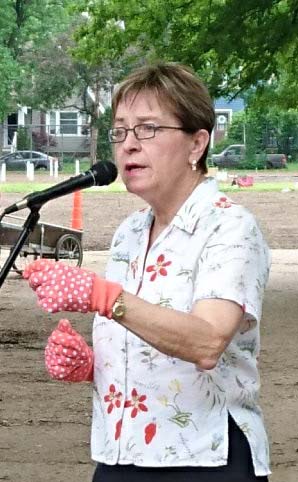 The opening of the 2018 Garden on Saturday, May 26th, was a special event—not only because it seemed the rains would never stop and the opening would never come. We were privileged to have a visit from Marcy Kaptur, U.S. Representative from Ohio's Ninth Congressional District, who toured our Garden and addressed the gardeners in attendance. Congresswoman Kaptur is a proponent of local, urban food production and advocate for affordable access to healthy food including fresh produce. Congresswoman Kaptur has a self-described passion for agriculture and has made initiatives regarding the issue of agriculture among her legislative priorities. Cleveland Council President Kevin Kelley and Ward 12 Councilman Tony Brancatelli also attended. It was an honor to host our elected officials and show off our "digs." Thank you, all! You're invited back any time to see how the Garden grows!
---
Get all the latest Garden news right on your phone
We're using Remind, a text messaging app, to communicate announcements and reminders quickly and efficiently — straight to your phone. It's simple! Join by texting @bfcgarden to 81010. You don't need a smartphone, just any phone that can receive text messages. (Your service's mobile messaging rates may apply.) DETAILS HERE.
---
Spring Fling Fundraiser Donors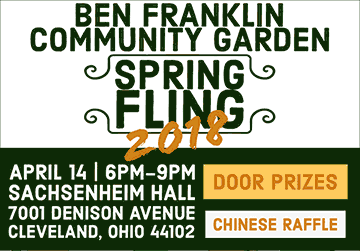 Thank you to all the generous donors who contributed to the success of our benefit! Please patronize the businesses who kindly support us.
African Safari Wildlife Park
AJ's Grill
Akron Rubber Ducks
Applebees
B.A. Sweetie
Bagley's Grill
Wilma Barniak
Jody and Tim Basich
Bella Pizza
Councilman Tony Brancatelli
Cahoon Nursery
Cake Royale
Campells Sweet Factory
Carmino's Pizza
Cedar Point
Cheesecake Factory
Cincinnati Reds
Cleveland Botanical Garden
Cleveland Browns
Cleveland Cavaliers
Cleveland Metroparks Golf
Cleveland Museum of Natural History
Costco
Cutting Line
D'Italia – Laura Riley
Dina's Pizza
Dollar Bank
Five Guys
Full Cycle Organics
Gabe's Family Restaurant
Stephanie Ghann and Judy Sutherland
Giant Eagle
Goldhorn Brewery
GolfTec
Great Lakes Brewing Company
Grey House Pies
Michael Gutierrez
Kim Hageman – Mary Kay
Hansa Brewery
Heart to Heart Grooming
Honey Baked Ham
Honey Hut Ice Cream
Horizon Education Centers
Dianna Hosta-Stickney
John and Rose Jenkins
K Bella Salon
John & Cheryl Kachmarik


Ken Keckler
Kings Island
Dave Kuebler
Kurtz Brothers
Deb Kusevic – Pampered Chef
Lake Erie Crushers
Lily's Chocolate
Loews Bucket
Kelsey Louchin of Elder Care Professionals of Ohio
Lisa Lowe
Mahoning Valley Scrappers
Maureen McCormick
Memphis Kiddie Park
Metropolitan Coffee
Midas Service Center
Miller Ferry
Mitchells Ice Cream
Steve Morris
Movement Factory
Music Box Supper Club
Near West Theatre
Greg Noeth
Norwex – Randi Lyn Rhodes
Old Brooklyn Greenhouse
On the Spot Dry Cleaners
Petitti Garden Center
Picaboo Pictures
Linda and Mark Piscioneri
Profile Creative Hair
Jim Ptacek
Rakauskas Architecture
Kim Repinski
Kathy Rieter
Rock n Roll Hall of Fame
Rometrics Salon-Spa
Sam's Club
Laura Stahl
Stan Hywet Hall & Garden
Mary Ellen Stasek
Stick To Your Buns Bakery
Sunshine Flowers
Sweet Greens
Jennifer Terry
Top Tier Cakes
University of Toledo – Toledo Rockets
Vincenza's Pizza
Western Reserve Historical Society
Lisa Young
---
The M.A.D. Club
M.A.D. (Make a Difference) club is "an organization of students working together to build enthusiasm within their school and outside community by joining in a movement of creative ideas and volunteer time in order to make a positive difference in the lives of others." The Club currently has chapters at Gilmour Academy, Padua Franciscan High School, and Mentor High School. The 2018 season will be our third season with student volunteers from M.A.D. who recruit sponsors and plant, tend, and harvest Hunger Center plots along with performing other volunteer tasks at the Garden.
Check out their website to learn more about M.A.D. Here's a video they made to "recap last year's season full of fun, sunshine, potatoes and service":
---
BFCG is the March centerfold!
See the feature article about the Garden in the Old Brooklyn News March 2018 quarterly issue: http://bit.ly/2oY5qhl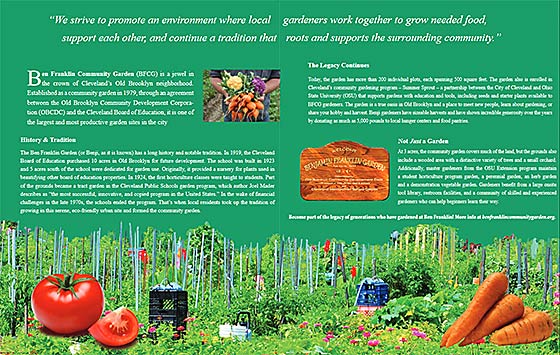 ---
"Putting Waste to Work" – KeyBank article
Featured on the KeyBank website is an article about Key employee and BFCG gardener Paul Kazmierczak and the Key-Rust Belt Riders food waste-composting initiative at the Garden. Read it at https://www.key.com/about/key2cleveland/quality-of-life/composting.jsp.
---
2017 Cuyahoga County Fair
We were a red ribbon winner! Thanks to gardener Kim Ripinski and her team for the terrific concept and execution. Thanks also to everyone who contributed produce.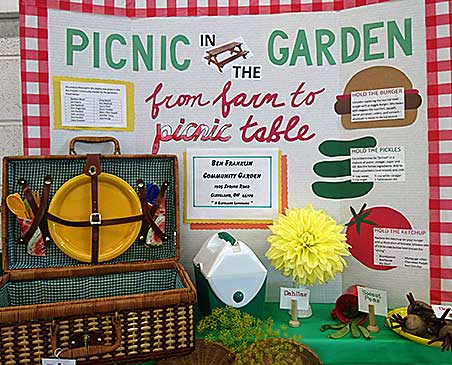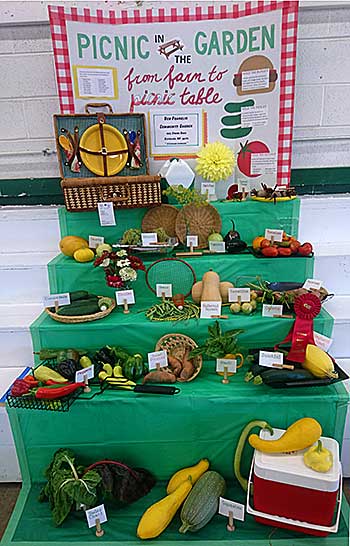 ---
Bees and Pollinator Garden
In 2016 we became beekeepers with the acquisition of two hives. They have been placed in an enclosure at the end of the asphalt path. Nearby is a new pollinator garden plot of flowers – all perennial, native plants. The Garden Coordinator and other members of the Operating Committee took beginning beekeeping classes from the Greater Cleveland Beekeepers Association, where the Garden is now a member. The initial bee and garden installations were funded by a grant to the Old Brooklyn Community Development Corporation. See more about the Old Brooklyn Pollinator & Habitat Project here.
---
Garden Tractor
For the 2016 season the Garden purchased a tractor with a reverse turn tiller, front loader and mower attachment. This will allow the Garden Coordinator and volunteers to prepare for the spring tilling and focus on amending the soil for higher yields. A new compost bin is also being planned because a large garden needs a large compost pile. The tractor will be the most efficient way to 'turn' the pile. The tractor will allow for better use of resources. Much of the labor at the Garden has been done manually - The wood chips, for instance, have been carted by wheel barrel from one end of the Garden to the other to form paths. The front end loader will be able to distribute wood chips and soil amendments throughout the Garden, saving time and volunteers' sneakers.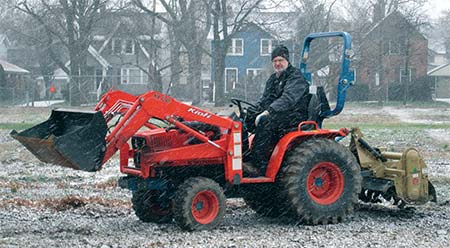 ---
Ben Franklin Community Garden T-shirts
In 2013 the Ben Franklin Garden introduced this t-shirt design, the work of gardener Carol Schiro. T-shirts are sold at garden events – Kickoff Meeting, Ice Cream Social, etc. Limited number/sizes still available and ON SALE. T-shirts feature a small graphic on the front and large graphic on the back. Women's style shirts are dark green on straw yellow; men's shirts are dark green on white.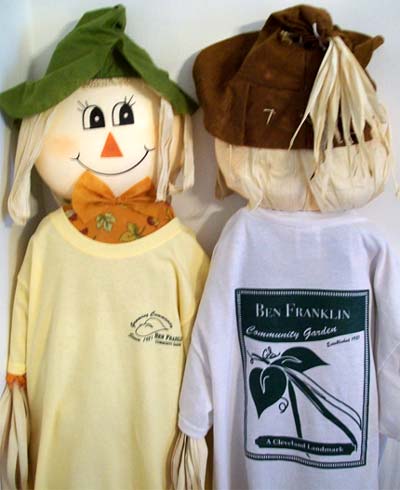 Wear your heart on your sleeve and your garden over your heart…
Colors – Straw yellow in women's and white in men's
Please Note – scarecrow not included!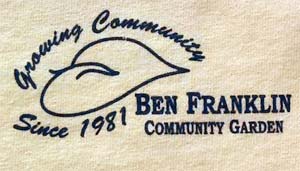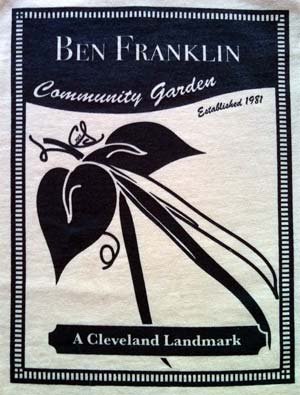 ---
"Recipes from the Garden" cookbook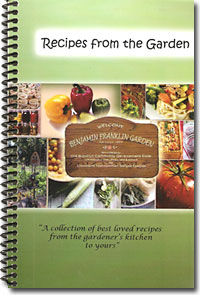 Copies are still available of "Recipes from the Garden" for just $10. The cookbook is sold at garden events throughout the year. It may also be purchased at the Old Brooklyn Community Development Corporation office (2339 Broadview Road).
The garden would like to thank the following businesses for providing monetary support to offset the price of printing: Honey Hut Ice Cream, M&W Meats and the Old Brooklyn Community Development Corporation.